WHEN PAKISTAN HAS WALKED THE FENCE THROUGHOUT ITS HISTORY, THE NATO AIR ATTACK IS THE SAME EXAMPLE WHEN PAKISTAN ALLOWS TERRORISTS TO RESIDE WITHIN ITS BORDER.
Nato air attack on Pakistani troops was self-defence, says senior western official
US-Pakistan relations strained further after attack allegedly kills up to 28 and prompts ban on Nato trucks crossing Afghan border.
An attack by Nato aircraft on Pakistani troops that allegedly killed as many as 28 soldiers and looks set to further poison relations between the US and Pakistan was an act of self-defence, a senior western official has claimed.
According to the Kabul-based official, a joint US-Afghan force operating in the mountainous Afghan frontier province of Kunar was the first to come under attack in the early hours of Saturday morning, forcing them to return fire.
The high death toll from an incident between two supposed allies suggests Nato helicopters and jets strafed Pakistani positions with heavy weapons.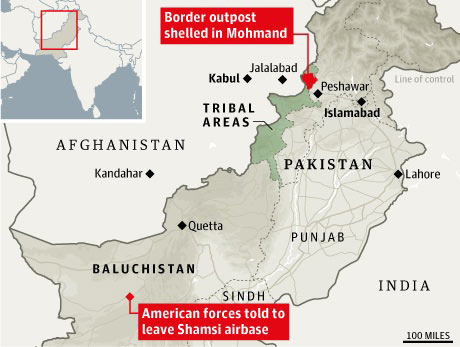 According to Pakistani officials the 40 or so soldiers stationed at the outposts were asleep at the time of the attack. Government officials said the two border posts that were attacked had recently been established to try to stop insurgents who use bases in Afghanistan to attack Pakistan from crossing the border and launching attacks.
The shutting down of the border to Nato traffic has happened in the past during periods of Pakistani displeasure with Afghanistan and its foreign backers.
A similar incident last year in which two Pakistani troops were killed led to the closure of one of Nato's supply routes for ten days.
However, in recent years the alliance has opened up alternative supply routes through Central Asia, reducing its reliance on the route through Pakistan.

http://www.guardian.co.uk/world/2011/nov/26/nato-air-attack-pakistan-soldiers